Mateusz Szczypiński – Visual Artist
Born in 1984 in Piekary Śląskie. In 2009 he graduated from History of Art at Jagiellonian University and in 2012 from Painting at Academy of Fine Arts in Cracow. Represented by gallery lokal_30 from Warsaw. Lives and works in Cracow.
Mateusz Szczypiński(…)picked up collage to face the eternal question what is art/painting today, and what are their limits. He borrow from quotations and individual pieces that entered the pop culture vocabulary. He refer to the period preceding the postmodernism, where a piece of art enjoyed a specific standing, while an artist was approached as a genius or demiurge. He explores interrelations between the sacred and the profane; a copy and an original – what these mean in the contemporary culture where their borders are obliterated, with ever present reproduction, a copy of a copy, and the contact with an original is of second importance.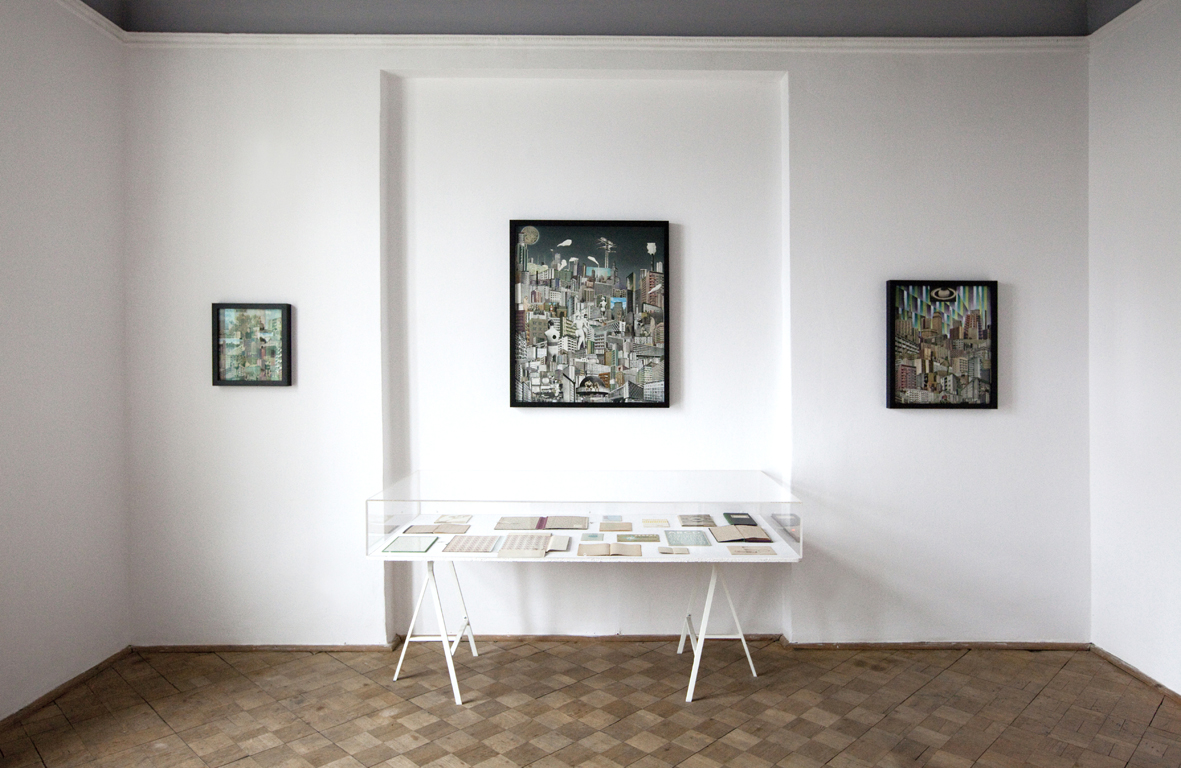 ---
 SOLO EXHIBITIONS:
– Ruins Reserve, Museum Burg Vischering, Ludinghausen 2019
– Stadt Gottes, lokal_30, Warszawa, 2019
– Please, Fill out the Form, Widna Gallery, Kraków, 2017
– papier-kamień-nożyce, lokal_30, Warszawa, 2016 (with Monika Powalisz)
–Kurz w oku , Galeria Dwie Lewe Ręce, Katowice, 2015
–Rozrywka, Galeria -1, Warszawa
–Our Matters, Parrotta Contemporary Art, Stuttgart, 2014(with Benjamin Bronni)
–Our Matters, lokal_30, Warszawa, 2014 (with Benjamin Bronni)
–Przerost naturalny, Centrum Kultury Katowice, Katowice, 2013
–Wyburzanie, BGSW, Słupsk, 2013
–Czy umiesz się golić?, galeria lokal_30, Warszawa, 2012
SELECTED GROUP EXHIBITIONS:
-Młode Malarstwo Polskie, Muzeum Narodowe w Gdańsku, 2019
-Nigdy nie namalowałem obrazu, lokal_30, Warszawa
-Kojarz Kolaż, Galeria Biała, Lublin, 2019
– Najgorzej jest być bogatym przez chwilę, 2018 (wystawa w ramach Miesiąca Fotografii w Krakowie)
-Scattered Rhymes, XY Gallery, Olomouc, 2018
– RZECZY- przedmiot i obiekt w polskiej fotografii, Galeria Starmach, 2017 (wystawa w ramach Miesiąca Fotografii w Krakowie)
-Sztuka w Sztuce, MOCAK, Kraków 2017
-Krew-Werk-Fundacja Galerii Foksal, Warszawa, 2016
–Contemporary Art From Poland, European Central Bank, Frankfurt, 2016
–Artyści z Krakowa, MOCAK, Kraków, 2015
–#Reading Lesson, ArtStations Foundation, Poznań, 2015
–Palindrom, PGS, Sopot,2015
–I Fell Nothing, Otwarta Pracownia, Cracow,2014
–Po co jest sztuka? MOCAK, Cracow, 2013
–Collage Now, Kordegarda, Warsaw, 2013
–Tribute To Robakowski, lokal_30 Gallery, Warsaw, 2013
–New Opening, new Begin, lokal_30 Gallery, Warsaw, 2013
–Compass of the Young Art, Olympic Centre, Warsaw, 2012
–Best diplomas Academy of Fine Arts in Cracow, Palace of Arts, Cracow, 2012
–New Look, Otwarta Pracownia, Cracow, 2011
–Message, Cellar Gallery, Cracow 2011
–Moon Hostel and The Movies, Manhattan Gallery, Łódź, 2010
–Multimedia Szajna Art Festival, Rzeszow, 2010
–Festival Artenalia , Old Butchery, Poznań,2010